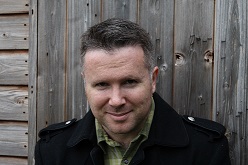 Date: Monday, October 31st
Time: 12 noon (UAE time) / 11AM (Qatar time)
Speaker: Curtis Jobling, Author, Illustrator and creator of children's TV shows.
Audience: ISP Families
About the Speaker




Author, illustrator and creator of children's television shows, Curtis Jobling, is the designer of 'Bob the Builder', and is an international best-selling novelist of an epic fantasy series, 'Wereworld', currently in production for NETFLIX.

Parents often dismiss Creativity as less than important to a child's development, especially upon reaching secondary education, where the emphasis is on academic achievement and career paths. Cutis Jobling argues that even the most academic child needs Creativity.
He will talk about how school, and home life, should be about whole child development, with Creativity being an important component of this.
This seminar will inspire parents to nurture the spark of Creativity that flickers within every child.